SIMMONS RACING
We are a true custom shop. You design it, we will make it
2016 Olympics gold medallists on SIMMONS cycling shoes
Almost all of the British National Cycling Team won their gold, silver and bronze medals with
SIMMONS RACING full custom cycling shoes!
Read the article in CYCLING WEEKLY or click here and Watch the news
Meet us here and get your feet casted:
Date: March 10th – 12th
Place: Salt Lake City , Utah
Event: NAHBS Bike Show
The first thing we do is to make a exact castings of your feet. We then take that casting and make the shoe off of them. This means that every detail of your feet gets built into your shoes. You will have a perfect fit and ultimate control of your feet from the bottom to the top. This also means there are no empty spaces inside the shoes so that when you push down and pull up there is no power loss. Every bit 100% of the power that you produce goes directly to the pedals, with no loss.
I know this might sounds very constrictive but it is not. I have been studying and experimenting for more than 21 years now, how to make high-performance shoes that fit perfectly and perform most efficiently. We constantly are seeking ways to help to help athletes access & deliver more power, which can be the difference between winning and losing.
Shoes of this design & quality come in at a somewhat higher price point. The cost of our specialized production technology along with your enhanced performance possibilities make these shoes well worth the investment. We do not compare our shoes to any other manufacturer or to their prices, because we are not like them in any way. Our shoes are made for one purpose; Making You Faster. When you are racing you have to have the full package. On your bike everything has to be the very best. Your shoes are the first thing interface to transfers the power that you create with your body directly to your bikes mechanism. But they are the most often overlooked element. We design based on how we think a shoe should work; we don't just follow trends or copy what is out there already. So please keep an open mind when looking at our shoes; you will need it!
Full custom.
We cast your foot to make a mold. We then create an exact replica of your foot to make your shoe from.This is an art that we have perfected.
You choose the colors, style, and extras (name,metal flake, etc.) to be placed on the shoe.

The price for a full custom shoe starts at $1250.00

We can cast your feet at an event we attend, at our shop in Florida, or you can do the casting yourself. Call us for a casting kit

deposit required for casting your own feet.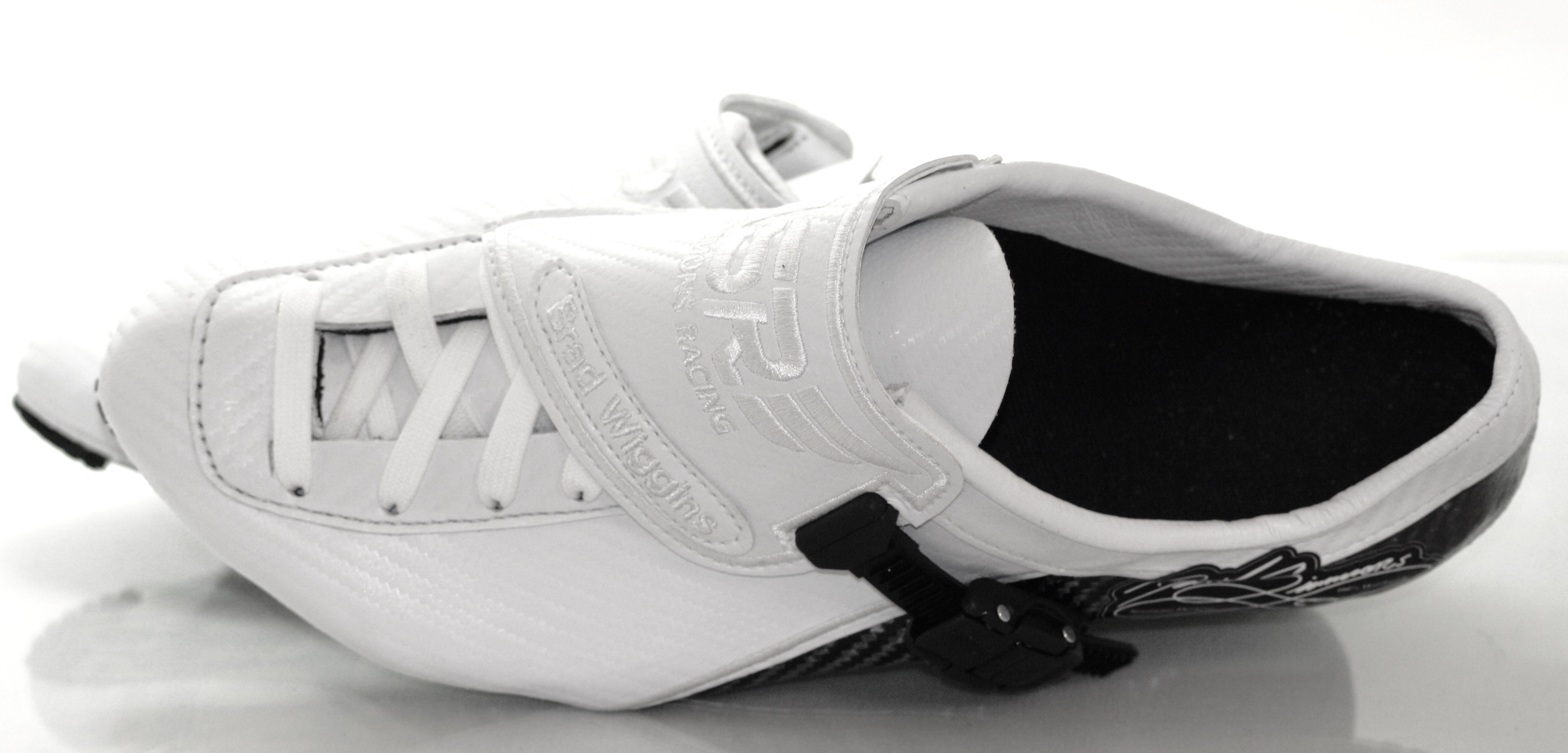 Brad Wiggins
Restoring and repairing your Simmons shoe is possible!
The carbon fiber shells last a long time. If you would like to restore the outside of your shoe to new again, (laces,leather,buckle,etc.) or change colors the price is $350.00
To reline inside of your shoe the price is $35.00
If you have a spot that is bothering you on your shoe it may need a little adjustment. You can adjust the shoe by heat molding the carbon fiber. If you need us to stretch your shoe ( about a half size is possible ) or adjust your shoe , call us, ship it to us with a detailed note indicating what needs to be done. Marking the shoe as instructed in the video in addition to your notes is recommended.

GLITTER/METAL FLAKE CHART