SIMMONS RACING
We are a true custom shop. You design it, we will make it
Here is a few words from our speed skate and cycling shoe customers.
If you have a testimonial you would like to share, e-mail us. We would love to hear from you!
After a brief break in period there is nothing better than my custom Simmons boots on my feet thank you David Simmons and Jennifer Simmons you guys are awesome. Simmons Boots, as they say, Simply the Best!




By:Jim Angelia Helfric
h



Seiko "Freight Train" Sanchez of Stardust Speed Club and Simmons Racing captures GOLD in the Freshman 200m road time trial. We hear that he broke an 8-year old record in doing so (18.383). Congrats Seiko! GO BIG BLUE!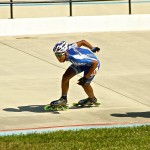 Thanks to the generosity and talents of David Simmons-Racing, a very special left boot was made for my injured left foot so that I can skate again.
Candy Wong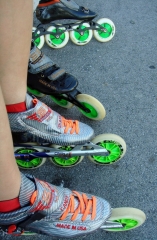 Testimonial from Rob Bell
When I got the cycling shoes back in the end of September 2011, I did a few power tests in the first few weeks I had the shoes. Keep in mind, I had 2 full years of training and racing data that tracked my my power records for each ride vs about 2 weeks on the new shoes when my fitness levels weren't even all that great. My weight has been 160 pounds, plus or minus 5 pounds. My old shoes were top of the line Mavics and Specialized Pro.my my power records for each ride vs about 2 weeks on the new shoes when my fitness levels weren't even all that great. My weight has been 160 pounds, plus or minus 5 pounds. My old shoes were top of the line Mavics and Specialized Pro.
I understand that the power numbers are literally "unbelievable" for most cyclists, the numbers don't lie. My peak 1 second power went from 1386 watts to 1447 on the very first ride. That is a 61 watt difference, or 4.2% increase. My 5 second power went from 1339 to 1414. That is a 75 watt difference, or 5.3% increase. My 30 second power was the the truly amazing increase. I went from a record of 786 to 936. That is a 150 watt difference, or 16% increase. My 1 minute power record went from 630 watts up to 658 watts which is a 28 watt difference, or 4.3%.
The 30 second power record is an outlier, but even if you ignore that huge 16% increase, you can't deny the rest of the numbers. At least a 4%-5% increase in sprint power was seen over the 1-60 second range. That is huge when you think about how many races are won or lost by inches.
Anything over 1 minute is hard to judge because you're aerobic fitness levels become more important at that duration and that changes so much throughout the season.
As far as heat goes, I did a 2.5 hour ride today. The temperature in the shade was 108, but I was in the sun the entire time. My garmin read over 120 degrees a few times, but most of the side was around 117 or 118. I didn't have any issues with my feet getting hot. I think a lot of the "hot feet" symptoms people have are because their feet get swollen as they get dehydrated. In a normal shoe, you typically have two straps and a ratchet buckle that hold your foot tight in the shoe. Once your feet get swollen, more pressure is put on the 3 sections of your foot that are held by the ratchet and straps. This causes pressure points that cause your foot to feel hot.
With a Simmons shoe, the pressure required to hold your foot in place is spread out throughout your entire foot, not just under the 3 straps. This means you don't get pressure points and you don't feel "hot spots."
By: Rob Bell Oklahoma
Testimonial from Danny Matchett
There is one word to describe Dave and Jennifer Simmons – Geniuses!
Since 2001, Simmons shoes have been the only cycling shoes I have used. I have tried other brands in the past including the newest Sidi carbon shoes and they are no comparison. As a sprinter, the transfer of power output is crucial. This is easily facilitated using Simmons shoes as output is not lost due to flexing of the base of the shoe. The carbon on these shoes is so strong, all your power directly transfers into each pedal stroke. This is also true for climbing. As the carbon is wrapped around the heel of the shoe, you are able to harness 100% of the push/pull for each stroke.
A common question I am asked from other cyclists is if the shoes are breathable and if your feet overheat? The answer is definitely "no". Each shoe is ventilated with ventilation holes. I have lived and trained in Phoenix, Arizona where temperatures in the summer can reach 110 – 120 degrees. As expected, no matter what shoe you use in those temperatures, your feet will get warm but this is surely not limiting. I have done 100 + mile rides and races in the middle of the summer with these shoes without problems of overheating.
Aside from unbeatable function, the second best aspect of these shoes is that David can customize them to any color you desire. You can have your name imprinted on them or your team name and colors. I still have my first pair of carbon shoes since 2001 and the carbon is intact. I have had them re-leathered in newer colors and they look and still function as brand new.
I'd like to thank David and Jennifer for everything they've done for me.
Simmons is "Simply the Best".
Testimonial from Jason Gunter click here to see video
As a competitive Paratriathlete, I am always looking for ways to enhance my performance to give me that extra edge. I am a double amputee – – missing my right hand and left leg below the knee – – I bike with a carbon fiber prosthetic leg and hand.
As a single leg amputee, it is very important that I have excellent linkage between the cycling shoe and peddle on my sound side, because that is where a significant portion of my power is generated.
Dave Simmons noticed me cycling in SW Florida and challenged me to try one of his custom carbon cycling shoes on my non-amputated leg. I was very skeptical . . . like any other athlete, I was very satisfied with my fancy Sidi tri shoes and I could not imagine that a different shoe would make a difference in my cycling performance.
I took Dave up on his offer for one only one reason. It was so clear to me that he sincerely believed his shoe would enhance my performance significantly.
These shoes are custom and are made from scratch for each individual person. Dave took a cast of my foot and in a couple of days my shoe was ready to test. The shoe is entirely carbon and super light. The shoe looks really cool in person . . . I always tell Dave the picture don't do the shoe justice.
The shoe fit excellent and was super stiff. As soon as I clipped in, it was immediately obvious to me that this was going to be a huge difference maker in my cycling. The linkage between the shoe and the peddle was nothing like I had ever felt before. I was finally "at one" with the shoe and the peddle for the entire stroke (push and pull). I immediately had an increase in power and my peddling was much more efficient.
At this point I have put about 750 miles on the shoe. My training partners have noticed the obvious increase in my performance.
The shoes are great to wear sockless – – My previous shoes stunk up the house and I had to wear socks – – not these – – I never where socks even on long rides – – the material inside is like a wetsuit and it absorbs sweat perfectly . . . You can literally spray the shoes inside and out with water after your ride. The shoe never gets hot – – I have worn the shoe on 100 mile rides in SW Florida with total comfort.
Dave ended up making me an amazing aerodynamic carbon fiber cycling foot and hand, which you can see in the pictures. He is very committed to his work and helping people. The shoes are not cheap, but in my opinion they increase performance more than carbon wheels.
Jason Gunter Fort Myers, Florida
Testimonial from Richard H Cassube ll
I currently ride on a pair of custom road shoes going on my third year of racing on them. The fit is like no other. They created no "hot spots" or blisters ever. The shoes give you the feel of being one with the pedal. There is no slop in the shoes when pull up on the cranks. You notice it most during climbs and sprints. When you don't have your feet moving around in the shoes, your climbing, sprinting, and all around riding become more efficient. I had to send them in once to get some work done and rode the shoes I had before. I could not believe how much I missed the accuracy of the fit and function. Simmons shoes fit great and perform even better. Richard H Cassube ll Wichita, Kansas
Testimonial from Ken Cooper
I have been riding Simmons Cycling shoes for the past 12 years. During that time I have put them through all variety of training routines from riding in the rain to 100+ degree days. Each and every time I knew I could count on these shoes to perform exactly as they are intended; maximum use of power, uniform and comfortable fit in all conditions and unbelievable durability.
I have been a distance rider by hobby for many years. I wore a pair of "Time" brand shoes the first few century rides and did OK for a non-competitive rider. My average finish time was a pretty consistent 7 hours with moderate chafing around my ankles and across the tops of the arches.
Once I got the Simmons footwear the preparatory training had much more effect and the ride efficiency increased to a point that reduced the 100 mile ride time to under 6 hours. The really great part of all that was I still had plenty of life left in my legs and usable feet at the end of the ride so walking was much more pleasant!
Aside from the proven efficiency gains there is just no cooler looking shoe available!
Ken Cooper
Dolphin Homes Real Estate
816-665-4572
Kcooper@kacentllc.com