SIMMONS RACING
We are a true custom shop. You design it, we will make it
From the Simmons
"We understand that our customers deserve the best of the best, so we make nothing less than the best speed skates and cycling shoes available.
This isn't just about providing the best product to professional athletes, our passion started with our family and we realize it's a passion founded
in tradition. Our love for the sport and our passion translate into one simple motto: 'Simply Simmons, Simply The Best' and we plan to continue
giving the world the best we have to offer"
Dave & Jennifer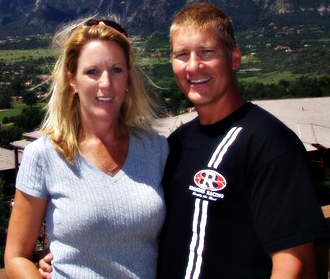 David and Jennifer Simmons met at Winnwood Skate Center in Kansas City, Missouri in 1981, the beginning of a decade that saw a new interest in inline skating. David Simmons was a custom car painter whose interest in speed came from his hobby of drag racing. Jennifer was a speed skating champion in national tournaments. After the two had their first daughter together, they took a more active look at speed skating for a future family activity.
Once becoming more involved with the sport, David felt the need to apply his practical philosophy for performance above all. "If it doesn't work throw it out," as he would say. He started with the boot of the skates. David saw an opportunity to improve upon the more common fiberglass designs of the era by using carbon fiber – the same material he had seen used while custom car painting. The couple handed some of the first few pairs out to other pros, and in the meantime got a feel for their own craftsmanship in order to make steady improvements in design. Soon enough the performance boost provided by their labor of love together was getting enough of a reception to see them receiving orders.
In 1991, Simmons Racing officially became the first full-time American producer of custom inline speed skates. The couple managed to keep themselves busy by simple word-of-mouth, most commonly obtaining lists of orders via their regular attendance of national championships, as well as receiving orders from outside of the U.S..
In 2005, the couple relocated to Cape Coral, Florida. They brought with them their same enthusiasm and expertise as before, and since have managed to see their boots help Olympic athletes earn a few gold medals throughout the 2000s. They also started up a speed skating team for local youths, continuing a legacy they started in their community back at home. This commitment to quality and their sport as a family activity helps explain how the couple can still enjoy having champions and hobbyists alike referred to them by their community, and why they also still consider overhearing the phrase, "When you get good you can have a pair of Simmons" to be their favorite compliment.
These days, the Simmons operate out of their own small custom shop, where they can choose their own pace and work in the same accessible fashion as ever. Jennifer takes the orders and measurement specifications for the wearer, as well as designs the upper and outer details of the boot. David casts the molds and is still as unapologetic to his own work as ever when it comes to throwing out any orders he feels wouldn't help continue their legacy of setting the standard for comfort, weight, and durability that the two seek in all of their products.
When asked, the Simmons haven't kept count of the number of athletes whom they have sold boots to, but they take pride in knowing that it is the confidence provided by the quality of their work that is a key aspect for helping athletes decide to wear their products the world over. They are also proud to know that they have been one of the only notable custom boot manufacturers to have been a mainstay in the U.S. for their sport for over twenty years, and they don't plan on changing their winning formula any time soon.